Aquatic Veterinary Services is a mobile veterinary practice taking care of pet fish in California and Nevada
Aquatic Veterinary Services is the premiere mobile specialty aquatic veterinary practice providing top quality, immeasurable value for fish and their dedicated owners. We transform pet fish owners into savvy and skilled aquatic pet parents, resulting in healthy, stress-free fish with a tremendous quality of life.
Meet Your Fish Veterinarian
Dr. Jessie Sanders, DVM, CertAqV is the owner and chief veterinarian of Aquatic Veterinary Services. Dr. Sanders received her veterinary degree from Tufts University and was the 2020 President of the American Association of Fish Veterinarians (https://fishvets.org) and chair of the Aquatic Veterinary Medicine Committee of the American Veterinary Medical Association (https://avma.org).
Dedicating her career to improving veterinary care for aquatic pets, Dr. Sanders has spent many hours training to build a unique set of skills to pass on to pet fish owners. She is a regular presenter at many national veterinary conferences on all aspects of fish health and veterinary care. Read more about Dr. Sanders' career here (https://drjessiesanders.com)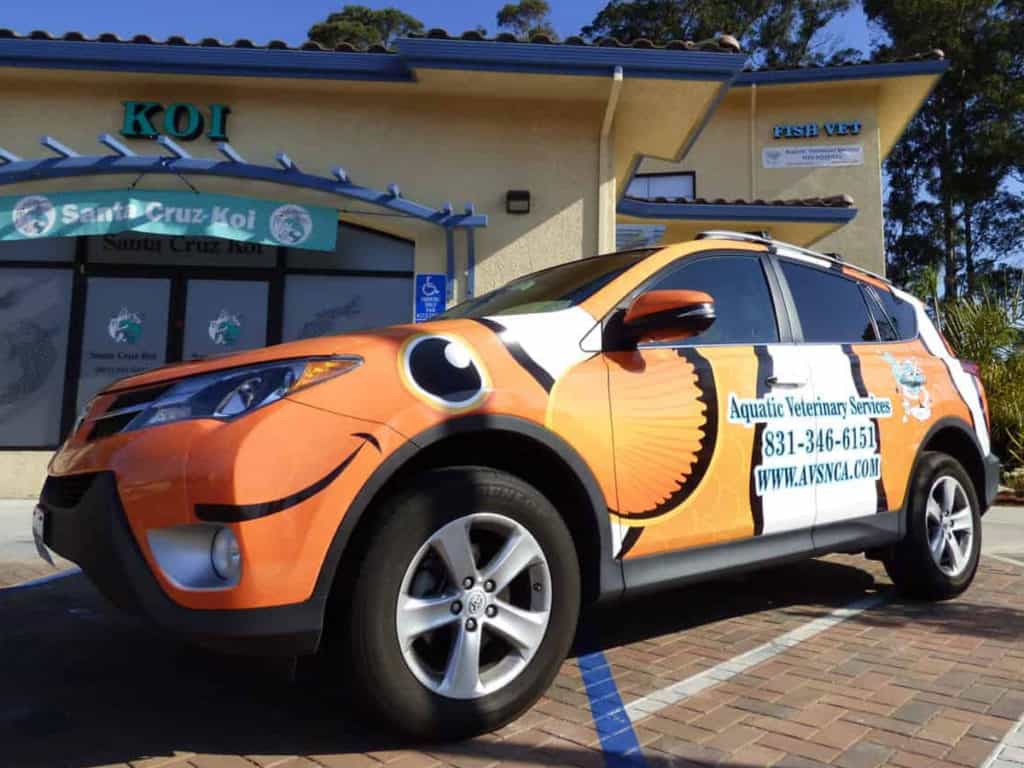 We Come To Your Tank or Pond
We are a fully equipped veterinary clinic ready to take the stress out of keeping your fish healthy. Our specialty services far exceed your usual veterinary offerings and are uniquely adapted to handling all types of fish. We offer pond or tank-side service and offer a complete array of veterinary diagnostics and treatments. Through our veterinary partners, we are able to offer advanced diagnostics such as CT and x-rays. Any required surgeries are also performed tank or pond-side with the help of our wonderful veterinary assistants.
Our Services for All Fish
Schedule an appointment or call us at (831) 278-1081.
What Our Customers Are Saying
NEW BOOK: How To Kill Your Koi
In this groundbreaking guide, Dr. Jessie Sanders shows you how to take care of your pet koi so they live long and healthy lives-without breaking the bank on expensive food, equipment, and veterinary care.
When it comes to fish diets, we're constantly discussing ingredients and nutritional breakdown, but what about palatability? With picky humans, dogs, cats, horses and more, why isn't it surprising that fish can be picky eaters too? Many owners assume soaking fish food will improve diet acceptability, but it's actually causing more harm to your fish's
A fish spitting food out can be seen in multiple species for many reasons. There is no one common reason why your fish is spitting out their food. Simply put: they do not want to eat their food for some reason including sickness, food palatability and environment. As with some other behavior quirks, some fish
Our office has seen in increase of Carp Edema Virus cases this year and we want you koi owners to know what to look out for. Also known as Sleepy Koi Disease, this virus can have deadly consequences for your fish. What is Carp Edema Virus? Carp Edema Virus (CEV) is an emerging pox virus
Schedule an appointment or call us at (831) 278-1081.